WATCH AND SHOOT!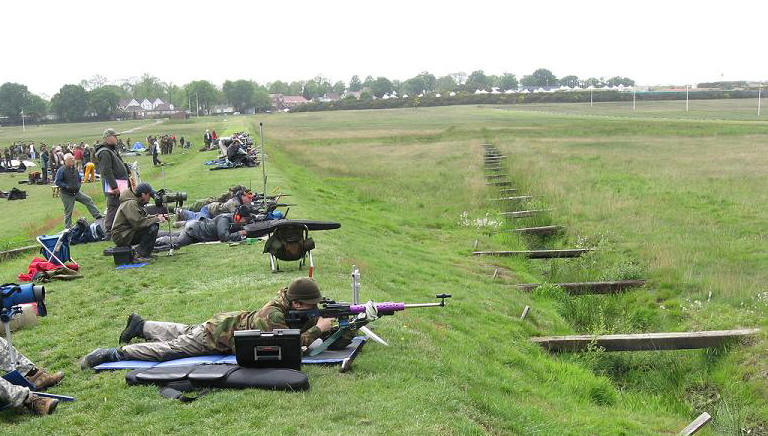 Prep time on Century Range's 300 yard line
An Illinois shooter recently took time from his May 2007 European vacation to visit the shooting grounds at England's world famous Bisley Camp. What follows is a report on how he was humbled by conditions and encouraged by a growing Highpower program based "Across the Pond."
By Derek Dattner
The British wind was the fiercest I'd felt while holding a rifle.
It howled from left to right. Despite a stock brimming with .45-caliber ballast and a coat cinched tight, my borrowed AR15 danced across the target.
I cranked off a round--more out of desperation than anything else. My reward was the sick feeling that follows a truly bad shot.
I was encouraged when I made out a fluorescent pink circle at the target's 3:00 edge. Maybe it wasn't that bad, I thought hopefully.
"An eight," I called to my scorer, relieved.
"That was a miss, I'm afraid," he politely replied.
The bright circle, it turned out, was my spotter. My pit puller couldn't reach the target's top dead center position to compound my embarrassment with a scoring disk signifying a "Miss."
Such was my welcome to The United Kingdom's National Shooting Centre at Bisley Camp.
I had 79 more shots for record.
And England was far from being done with me.
On a European Holiday
The road to the Highpower Rifle Association's May 12 across-the-course match began when my wife announced she was going to London for our 10th wedding anniversary. I was welcome, Amy said, to come along if I liked.
During the month of negotiations over our itinerary-and partly to counterbalance the Kensington shopping and Chunnel trip to see the Mona Lisa and Eiffel Tower--I needed to do something shooting-related. I heard about Bisley being less than an hour's train ride south of London. I wanted to see it for myself.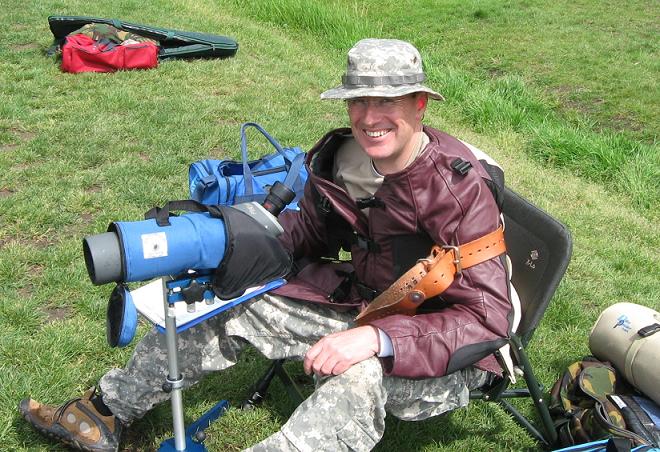 The author's host, Royal Navy LCDR John Morgan-Hosey.
Enter Royal Navy LCDR John Morgan-Hosey. A military combat shooting team captain, John is a member of a Highpower bulletin board that I frequent, and also very active in the HRA. Mostly on a whim, I e-mailed him, asking whether I could stop by to see some of the match that coincidentally fell on the Saturday of our vacation. "If you want to shoot (and you are more than welcome to) I can supply you with rifle and ammo," he wrote.
If you want to shoot?
It was like a golfer getting 18 holes at St. Andrew's.
But a month after the invite, golf was precisely the sport I was thinking of taking up.
I took stock after 22 single-load servings of torture, as clouds shot across the sky and trees bent to their will. Why not?, I thought. It's cheaper and more socially acceptable. Besides, once I told the guys back home that I got a 155-2x in offhand, I was certain to be banned from Highpower.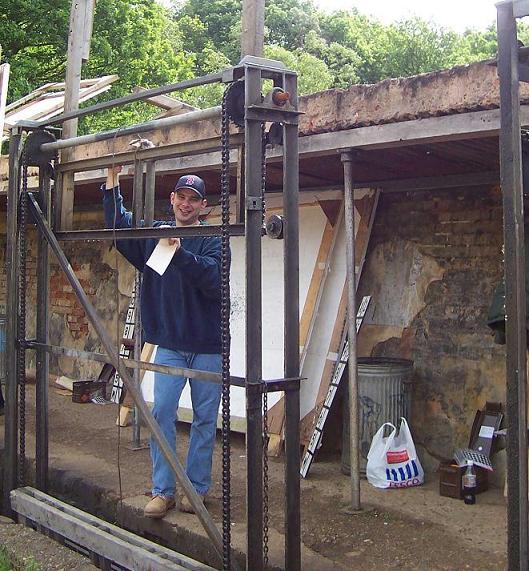 The only issue with a historic rifle range is sometimes the equipment may be too historic. Author received an excellent upper body workout from "pulling butts" at Century Range.
My Acquaintance With a Straight-Pull Rifle
Next came sitting. The only good that came out of the offhand disaster was a decent elevation zero. I built a solid position and sent my first sighter into a wind-assisted eight at 3:00. I cranked on more left wind and was relatively centered up.
As is done in the U.S., we stood and waited for the firing commands. The match more or less followed the NRA's High Power Rifle Rules. Some of the crew shooting that day came from military backgrounds, and rapid-fire commands were a bit different than in the States. The last thing we heard before the targets came up was "WATCH AND SHOOT… WATCH AND SHOOT…"
As the carriers began to rise, I dropped into position. It felt great. My natural point of aim wasn't that far off. A small butt-wiggle and I was centered.
I fired.
For some reason, recoil was really sharp. I didn't know why.
Coming down from recoil, I centered up and again pulled the trigger.
Nothing happened.
This is because in the late 1980s, Parliament essentially banned civilian possession of certain military-style semiautomatic rifles. To be on the sunny side of the law, all our rifles lacked gas components. I found it strange to see ARs and spaceguns from Accuracy Speaks and White Oak Precision with ungainly handles sprouting from their sides. Want to shoot again? Crank the handle back and let it fly… It seemed ironic that a Briton could slap in a Beta C-Mag and blast away to his heart's content-so long as he yanked his knob 100 times.
Time ticked away while the fuzzy blob bounced in my aperture. Working the bolt was not on my mind as I tightened my death grip.
I know this thing's got a heavy trigger, but this is gettin' ridiculous…
I eventually snapped back to reality.
Removing my hand from the pistol grip, I yanked the handle aft and unnecessarily forced the bolt home. I fired a second time, pulled back and dropped the magazine. I knew I was running out time. I reloaded and repeated the loading-and-shooting bit seven more times. As I lined up for my 10th shot, I saw the target start dropping. I fired. Luckily, I caught a six at 12:00. First string was 92-1x.
Being that my group was a bit high, I dropped two clicks. The next string went out the bottom, a 90-0. Oh well. Dumb mistake, but I salved my ego by knowing I was still in contention for "High-American-Shooting-at-Target 105."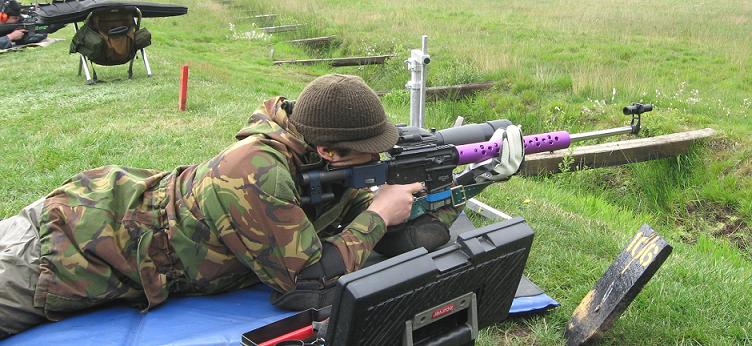 Bill Ellis drove his "stick-shift" .223 White Oak Precision Spacegun to second place in the match, including a 3x-Clean in RFP. His upper receiver was made without gas parts to comply with English law.
One thing I learned during our trip to Britain was that it can rain at any time. Today was no different, as low clouds scudded across a newly overcast sky. A mist-like rain fell as we prepped for rapid-fire prone at 300 yards. The rain picked up, not by coalescing into drops, but morphing into a thicker fog.
Buzzing With Activity
Thankfully, the Brits are more civilized than we are. Under normal time constraints, we would have fired the string, but it was coming up to Bisley's mandatory, 12:30 p.m. lunch break. Others' paid pullers and those manning the military pits in the nearby Pirbright ranges needed to eat. And I needed to do some sightseeing.
We packed our soggy gear into our respective boots (car trunks). I was then given a driving tour by Matt Greenall, a fellow southpaw who lent me his rifle and ammo. The 14 shooters I met that day came from all walks. Some were either current or former military, others were factory workers and tradesmen. A couple were gun plumbers either full-time, or as side work.
Bumping across the complex in Matt's old Land Rover, I was fascinated by the sheer number of folks shooting that day. Despite the changing weather, hordes of people were on all outdoor ranges I saw. If I were to believe the propaganda in the NRA magazines, I would've thought only a handful in the entirety of Britain would have been brave enough to challenge the authorities by burning some powder.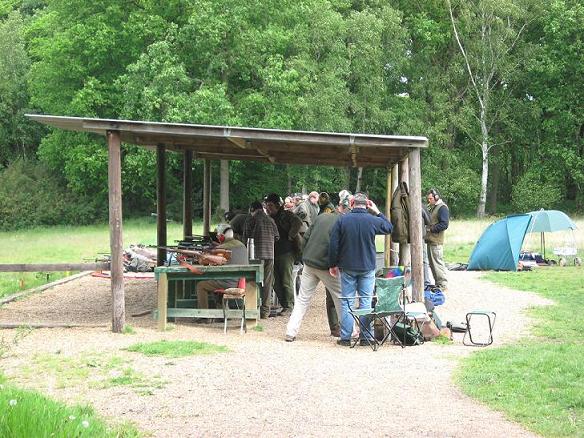 Shooters packed on Bisley's Short Siberia Range.
But in reality, things were far different on a Saturday in early May. There were no constables scrutinizing gun owners' papers. Parking lots were jammed. The pits buzzed with school kids and military cadets; we shared the line with the true contributors to global warming: black powder enthusiasts.
During an earlier pit change, I was surprised to see shooters on adjacent ranges firing at different yard lines. John explained that as long as folks kept within a certain arc of fire, multiple lines could be run. I later found that the same was true on Century. There has not been a competitor shot in recent memory, John said. And people back home freak out at Perry when shooting's going on at both Viale and Rodriguez, I thought.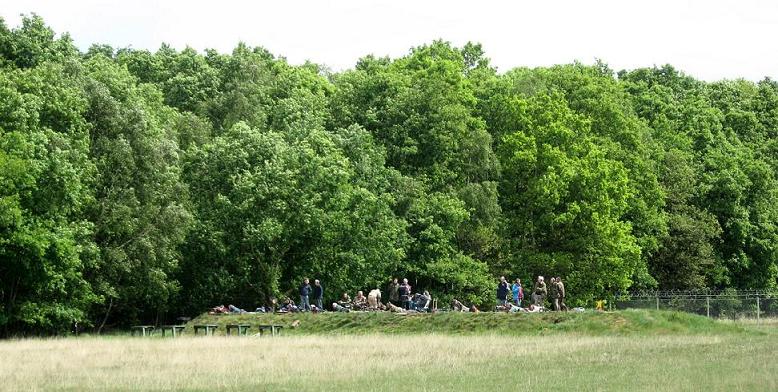 Riflemen on Long Siberia. You don't normally get this camera angle back in the States…
Immediately to the left of our 600-yard Century Range were the trap fields of the National Clay Shooting Centre and also home to a decent canteen. No lunch there. Too crowded. Too many damned doctors and lawyers. So we drove around some more.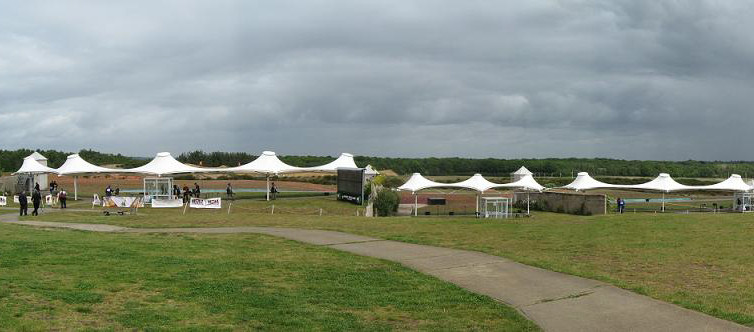 Shotgunners at the National Clay Shooting Centre
We then stopped at the place I most wanted to see: Stickledown Range-1,200 yards of wind-swept no-man's-land that plays host to international Palma matches. Stickledown is thick with history, and the best shots in the world have battled its conditions since the late nineteenth century. As a relatively new Highpower shooter, it was a humbling experience just to stand there.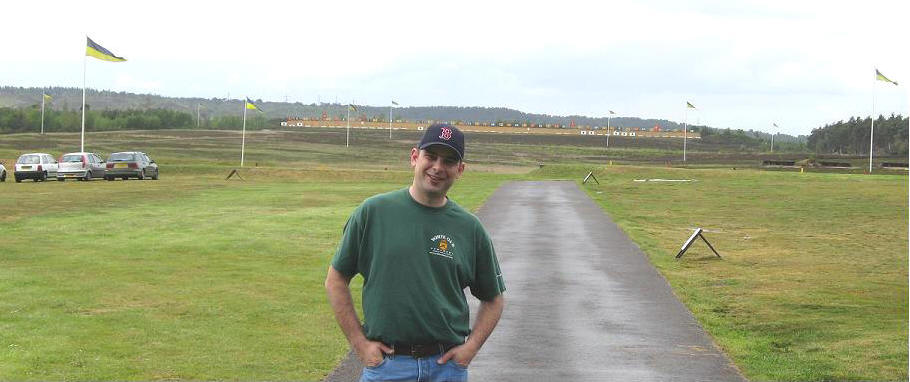 Author models his White Oak Armament shirt in front of Bisley's 1,200-yard Stickledown Range.
After taking a couple of pictures, we toured the rest of the camp. Not only is Bisley headquarters of the U.K.'s National Rifle Association, it's also the home of a number of shooting clubs, each having their own, mainly Victorian-era clubhouses. Some have full bars and sleeping facilities that rivaled top-end bed-and-breakfasts. And even better, they're open for hire. Note to self: see if Amy would go for that on our next trip…
Rapid Fire and Slow Prone
My Lunch of Champions ended up being a hamburger and Coke. We then got back to business. I love rapid-fire prone. I consistently shoot higher-level Master and High Master scores at 300 yards, so I was looking forward to regaining my "honour."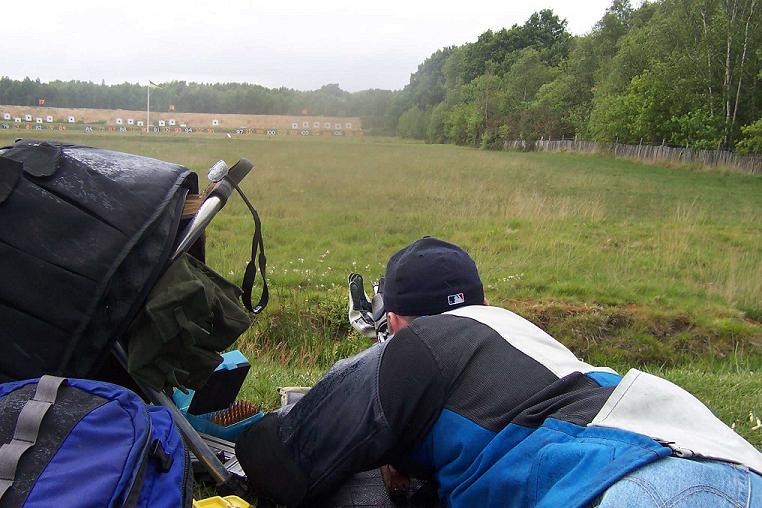 Author battled wind, rain and self-inflicted magazine misfeeds at 300 yards.
Unfortunately, it was not to be. Shot a 96-2x in my first string, putting four out the bottom. Then disaster struck. After my fourth shot, I had a double feed. I immediately raised my hand and was granted an alibi. So under the rules, they counted my first four shots, and then I fired another full string of 10. The lowest of the remaining six to count. After more mag issues (or perhaps more appropriately, "dumb shooter" issues), I finally limped off the line with a 90-0x.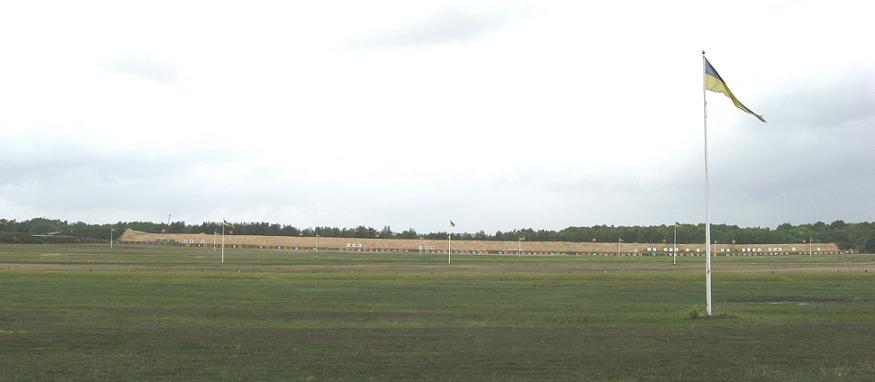 Bisley's Century Range, viewed from the 600 yard line.
Finally it was time for shooting at 600 yards. There was no way that Matt's AR would handle 80-grainers, and given the wind that day, I didn't think I had enough clicks to reel in anything lighter. So John lent me his new Service Rifle upper, a 1x7 built by John Holliger of White Oak Precision. It looked just like any other, save for the aluminum plate holding the oversize charging lever. The heart of John's kit was a Geissele trigger, barely set over its minimum (under American NRA rules, the ARs on the line would be classified as Match Rifles, allowing for trigger weights that SR shooters in the States drool over). And beside the rifle was a box of handloaded copper rockets. Little did I know that I would burn through a significant amount just getting onto paper.
Once my shots started hitting the 6-ring, John started counting for record. First string ended up being an 82-0. After reaching a truce with the wind, I finished up with a 95-1x.
By then, I was pretty tapped out. Shooting a Highpower match is hard enough, but having your body thinking it's still on Central Daylight Time adds a new dimension of fatigue. We gathered together behind the 600 yard line and went through the scores. John's been the local hotshot of late, receiving the top score of 743-22x, fired with his Tubb 2000 in 6XC. Bill Ellis and his White Oak spacegun in .223 came in second with 727-10x. And third was Rowan Chaplin, top Service Rifle shooter, with a 715-11x.
As for me? Well, I achieved "High-American-Shooting-at-Target 105," with a 700-6X. I was happy enough to finish in the middle of the pack.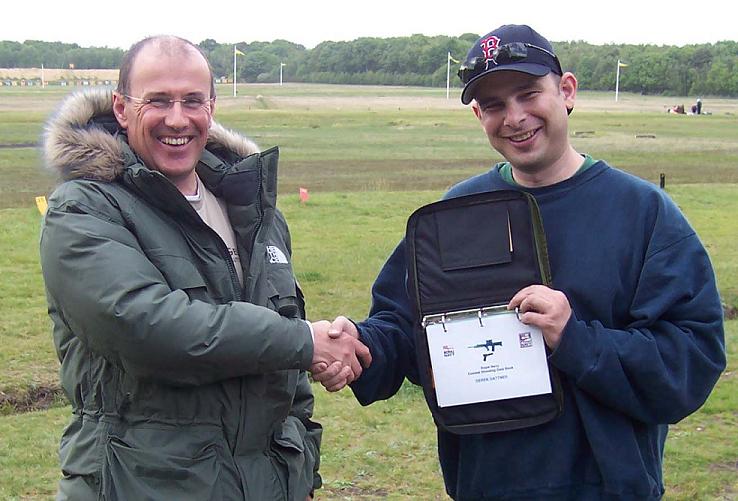 John Morgan-Hosey presenting the author with his own Royal Navy Combat Shooting Data Book. Coupled with a starter set of targets, he had the raw materials to have a lot of fun-and give his local Range Officer a heart attack.
At the end of the awards ceremony, John presented me with some mementos to take back to the States. First was a really cool Royal Navy Plymouth Command Rifle Team shirt. Second was a personalized Royal Navy Combat Shooting Data Book--complete with a mailing tube full of targets that the British use for training and competition. "We figured that we brought Highpower over from the States and you can bring our Civilian Service Rifle [course of fire] back with you," he said.
Final Thoughts
Shooting at Bisley was a spectacular experience. I endured every condition save for snow, received wonderful hospitality and was able to put faces to folks I've been talking to over the Web for a while now. I was really happy to see a developing civilian shooting program where shooters were interested in our American game and becoming quite proficient in its execution. Before we all left the range, I made the guys promise to let me know beforehand if they were coming to the our area and made my best sales pitch to get them out to Camp Perry.
As John dropped me off at the Brookwood Rail Station for my train to London, I was subjected to one last torture. The HRA's Highpower Nationals, he said, will be held in October. I'd be more than welcome to shoot it if I liked…
I worked the math in my head. A little over four months to convince Amy to do a return trip to England...
Honey, I found this spectacular bed-and-breakfast…
Additional Resources: